The Stoned Ape Show in the Media
While I have my own podcasts, I love spreading the word and helping to break the stigmas around psychedelics, mental health, and suicide. Here are some shows I've had the honor to be on. Enjoy!
Where's the Grief? with Jordon Ferber
Author and Comedian Stuart Preston
HealthPath Podcast with Alex Manos
Grief and Psychedelics with Stuart Preston
Healing a Father's Broken Heart
Soul Quest Ayahuasca Church of Mother Earth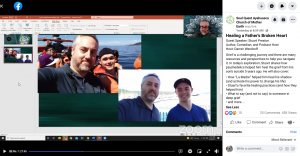 Guest Speaker: Stuart Preston
Author, Comedian, and Podcast Host
Host: Darren Wendroff
Grief is a challenging journey and there are many resources and perspectives to help you navigate it. In today's exploration, Stuart shares how psychedelics helped him heal the grief from his son's suicide 5 years ago. He will also cover:
• How "La Madre" helped him heal his shadow (and activate his power to change his life)
• Stuart's favorite healing practices (and how they helped him)
• What to say (and not to say) to someone in deep grief
• and more …
Watch it on Facebook Video
Episode 180: Stuart Preston: Stoned Ape Comedy/Poignant Psychedelic Humor/The Grief Trip
ONEConsciousness Deep Conversations Podcast
I had the honor of spending time with Jeff Krisman, talking meditation, grief, psychedelics, and Ram Dass. Audio is available on all major podcast apps, and you can stream it here.
Drive Friendly with Steve and Felecia
A radio show and podcast, we talked about breaking stigmas around grief, mental health, suicide, and psychedelics. We also talked about the release of my book, The Grief Trip
Drive Friendly with Steve and Felecia
A radio show and podcast, we talked about the Stoned Ape Show for just about the full show. Great show, great couple. Be sure to watch their other episodes as well.
Wings With Friends
My comedy friend, Mary Upchurch, has this awesome podcast. Prior to my vegetarian days, I was a wing fanatic, having lived in Buffalo for two years. Here where I live, you can't be Sal's Gilbert Pizza's wings. So, we ate at Sal's, talked to Sal himself, and got pretty deep into comedy, loss/grief, and suicide.